The selection of a good and suitable surgical instrument depends upon its usage. You must first note down the procedure you are going to perform, the age of your patient, the size of the instrument, frequency of usage, and the individual differences.
Procedure-Related Information
Reading published articles, books, booklets and other stuff related to the procedure you are going to perform can give you a well-explained idea about what to do and what instrument to use. Using the wrong instrument can have drastic consequences. The right surgical instrument can make the surgery successful.
Age of the Patient
Similarly, the age of your patient can have an impact on the choice of a surgical instrument. There are many surgical instruments specially designed for pediatric use. They are available in appropriate sizes and allow an atraumatic application.
Size of the Instrument
The size of an instrument is very important. Only an instrument with an appropriate size can function effectively. For example, in the case of a needle holder, the size of the holder should be according to the size of the needle it will be holding. Otherwise, it will not be able to grasp the needle.
Frequency of Usage
You should choose an instrument depending upon its usage. For frequently used instruments, choose the ones made from stronger materials like titanium or tungsten carbide inserts. They require little maintenance and stay effective for a long time.
Individual Differences
We are all unique in our own ways. Different surgeons feel comfortable with different surgical instruments. Scissors are one such instrument that may be hard to use for left-handed surgeons. A left-handed surgeon should buy surgical tools especially made for left-handed users.
Each surgical instrument is used to perform a specific function. Today, we will discuss some frequently used surgical instruments which might give you an idea about what instrument to choose for your next surgical procedure.
Types of Surgical Instruments
Let us discuss some basic types of surgical instruments. These types have been formulated based on the function of the instruments.
Cutting instruments are used for cutting sutures, meshes, wires, or dissecting tissues and organs. These instruments come with sharp blades and strong jaws to ensure a fine cutting action. They include scissors, knives, wire cutters, pin cutters, scalpels, and surgical blades.
Grabbing or holding instruments are used to grab and manipulate the veins, body tissues, sutures, or drapes. They provide an atraumatic grasping action. They include hemostatic forceps for clamping blood vessels, tissue forceps for grasping tissues or sutures, and towel clamps for holding drapes.
Retractors help in holding back tissues and organs to provide a better view of the surgical site. You can choose from handheld retractors and self-retaining retractors. The examples include Balfour Abdominal Retractor, Gelpi Retractor, Finochietto Rib Spreaders, etc.
Cutting Instruments
Let us discuss cutting scissors in detail.
Surgical Scissors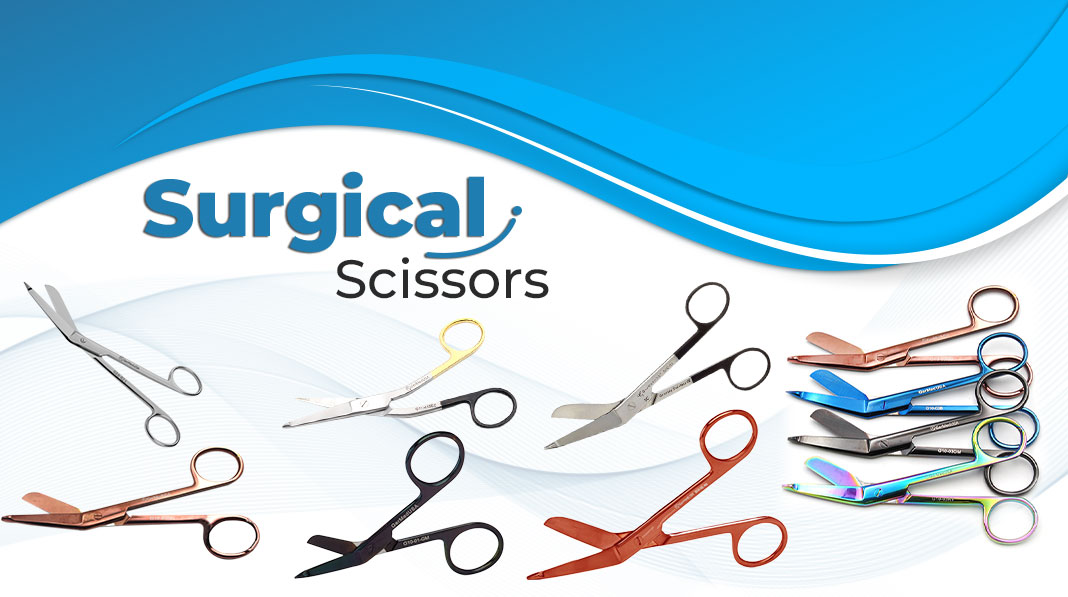 Scissors are the most commonly used instrument for cutting and dissection. Their structure contains two razor-sharp blades that glide against each other to perform the cutting action. While selecting scissors, keep the following points in mind:
Straight blades are ideal for cutting tissues at the surface of the body.
Curved blades are suitable for deep tissue dissection. They easily go over and under the surrounding tissues and provide an atraumatic application.
Fine Tip Scissors with plier-like structures are best for dissecting sensitive tissues in restricted spaces. They provide high precision and accuracy. They are usually preferred in ophthalmological procedures that require extra detail and concentration. They can be used by both right and left-handed surgeons.
Scissors that have heavier structures and bigger blades like Metzenbaum and Supercut Mayo scissors are useful for cutting tissues, organs, and blood vessels.
Choose the length of the scissors according to the depth of the incision.
Surgical Scissors also come with multiple extra features that make them more effective and strong.
Golden handles indicate the use of Tungsten Carbide inserts. Tungsten Carbide makes the instrument many times stronger than the standard ones.
Black handles indicate the feature called SuperCut design. It means that one blade is razor-sharp for swift cutting action, while the other blade is serrated to provide a better grip over the instrument.
If an instrument has one black and one golden handle, then it means that it has a SuperCut design with tungsten carbide inserts.
You can also get scissors with a spring mechanism. They are suitable for both left and right-handed users.
Let us now discuss some examples:
Mayo Scissors SuperCut Straight
Mayo Scissors SuperCut Straight are usually used for soft tissue dissection. They feature straight blades with a SuperCut design. They are frequently used during multiple surgical procedures.
Metzenbaum Scissors Tungsten Carbide
Metzenbaum Scissors with tungsten carbide inserts are the best choice for any medical practitioner. The tungsten carbide inserts increase the strength of the scissors and make the cutting process smooth and fast.
Noyes Iris Scissors
Noyes Iris Scissors are used in ophthalmological procedures for detailed and accurate tissue dissection. They feature fine sharp tips with a spring handle. They are ideal for procedures that demand high precision.
Grasping Instruments
Grasping Instruments are the second most important instruments. They usually go by the name "forceps". Let us discuss all their types.
Forceps: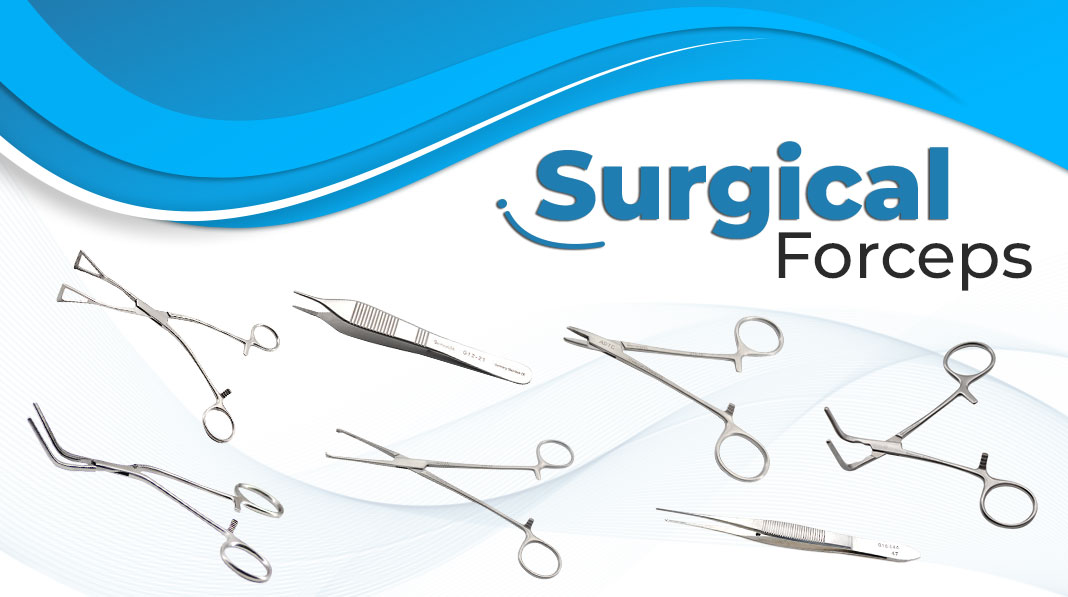 Forceps have two kinds of structures based upon how they are used:
Here are some of the important suggestions that can help you pick the suitable one:
Straight tips provide more precision.
Curved tips give you better visibility.
Ring Handles are used like scissors.
Thumb Handles are pressed with the thumb for grabbing the object.
Hemostats grab the blood vessels to stop the flow of blood before ligation and cauterization.
Tissue Forceps hold and manipulate the tissues or sutures.
Towel Clamps or Dressing forceps are used to hold the drapes and dressing during the surgery.
Common types of ring forceps include:
Mosquito Forceps
Mosquito forceps are hemostatic forceps used to stop the flow of blood by clamping the blood vessels. You can get them in straight, curved, and angular jaws.
Kocher Hemostatic Forceps
Kocher Hemostatic forceps provide a firm grip over the blood vessels to stop the blood flow during the surgery. They have strong jaws that provide an atraumatic clamping experience.
Allis Tissue Forceps
They are used to grab and manipulate tissues during the surgery. They come with a strong structure and lightweight body.
Common types of thumb forceps include:
Martin Tissue Forceps
Martin Tissue Forceps are used to grab and manipulate tissues during the surgery.
Dermal Forceps
Dermal forceps are used during dermal surgical procedures. You can get them with serrated thumb handles, fine tips, teeth, and delicate structure.
Adson Forceps
Adson forceps come with a fenestrated handle to grab soft tissues during surgeries. They have a delicate structure and teethed edges.
Other Forceps:
Dressing Forceps
Dressing forceps are surgical instruments used to grab dressing during surgical procedures.
Towel Clamps
Towel clamps are used to clamp towels and drapes. They are very useful during surgeries.
Surgical Retractors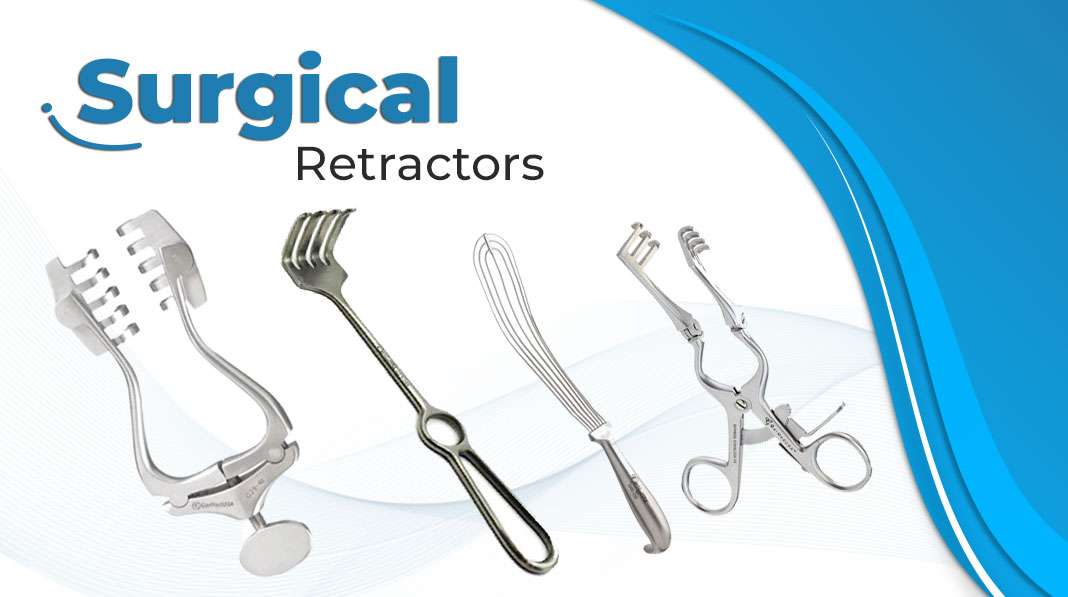 Handheld retractors are mostly handled by either a robot or a surgical assistant. They require someone or some mechanism to constantly hold them in place during the operation.
Self-retaining retractors can stay in one position of their own. They come with a ratchet system or some other mechanism to make things easier. They are preferred during complex surgical procedures. Some Surgical Retractors:
Balfour Abdominal Retractor
Balfour Abdominal retractor is used during abdominal surgeries to retract tissues and organs. They come with a self-retaining mechanism.
Gelpi Retractor
Gelpi Retractor is a handheld retractor used to retract tissues and organs during surgery. It comes with a finger ring handle that provides optimal control over the instrument. You can get it with sharp or ball tips.
Choosing Your Instruments
Selecting a suitable surgical instrument requires a lot of knowledge and thinking. Knowing the basics can help you in choosing a proper surgical instrument. If you fail to find an instrument according to your individual preferences, you can share your idea with GerMedUSA Inc., and we will make a custom-made instrument especially for you. In case of any queries, contact us at 800-330-1322 or +1(516) 997-2180. You can send us an email at [email protected]