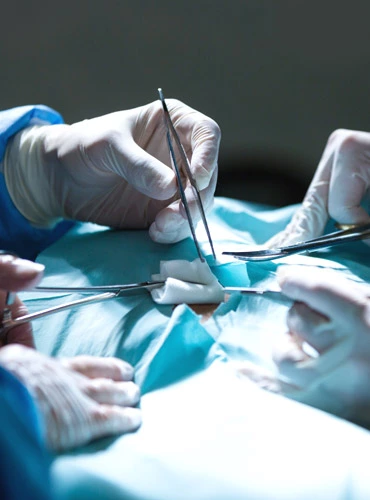 Surgical Instruments Manufacturer and Supplier from Decades
Our industry knowledge and years of experience are the keys to our high-quality instruments. From decades, GerMedUSA Inc. persist in delivering high-quality German Surgical Instruments and maintain customer satisfaction. We understand the significance of high-quality products; thus, our dedicated craftsmen are committed to providing premium instruments that are safe to use and proved to be more effective for surgeries. Our instruments are surgeon's hand extension. Hence, we assure our instruments are efficient, durable, versatile, and reliable.
Instruments used in General Surgery
We offer a wide range of surgical instruments with multiple sizes, patterns, and variations. Our commonly used instruments are:
Surgical Scissors
Surgical Retractors
Surgical Needles
Needle Holders
Intestinal instruments
Dressing Tissue and Splinter Forceps
We are serving the healthcare dealer market worldwide. Our surgery instruments are available for instant delivery anywhere in the world.
Why Choose Us?
Our Surgical instruments accommodate healthcare professionals in various medical approaches. Selecting the right instrument is important for delivering quality health care to your patients. We pride ourselves in manufacturing the latest instruments that make any surgery quick and smooth. Our instruments are not only used for surgeries but useful for research laboratories and organizations for educational purposes. We provide you reliable instruments at a cost-effective price. Our craftsmen maintain strict quality and consistency inspection patterns to ensure the quality and durability of instruments. We also offer customization to meet your personal surgical need.
Have more concerns or questions? Find your answers below!
Yes. GerMedUSA.com ships worldwide on a daily basis. Like any other well managed E-commerce business today, we will require bank verification of your credit card information, or a successful wire transfer of funds to our account, prior to shipment outside of the United States. Instruments may also be purchased from us at various specialty trade shows throughout the course of the year.
You can easily search for the product by typing its name or SKU in the search bar at the top of the webpage. You can also look into different surgical instrument categories to find a list of instruments designed for a specific purpose and choose one that suits your needs the best. You can also call our customer services number in case of any trouble.
Our instruments are crafted from German surgical stainless material. Some instruments are also made of titanium, tungsten carbide, and chrome-plated.
Yes, you can buy a surgery set or kit according to your surgical need. We have an extensive range of surgical sets specified for relevant surgeries.
We are not only a seller, but a manufacturer too. We guarantee our instruments are made from German Forged stainless material and ready to deliver immediately. Our instruments are properly assessed through quality assurance tests.
Yes, we offer discounts on bulk orders. Contact us for more information about discount offers.