Neurological Hammer
Showing 1 to 1 of total 1 results
A neurological hammer is a medical device that physicians use to assess the profound reflexes of the tendon. To detect irregularities in the central or peripheral nervous system, checking for reflexes is an essential part of the neurological physical exam. You may also use Reflex hammers for chest percussion. We can also design and produce our surgeons' custom kit packs according to their needs. The instruments are all fine, durable, and sharp.
All these instruments are perfectly crafted from premium-grade German surgical stainless material. So, these instruments are reusable after sterilization. All our instruments are perfect for long-term duration. Now you can select the best and high-quality instruments from our broad displayed catalog at a very low cost.
GerMedUSA will enable you to assess and minimize resection costs for the surgical instruments, including this instrument in the collection. So, it is a basic neuro instrument that has become suitable for a surgeon. Our instruments are perfect to perform various neuro operations.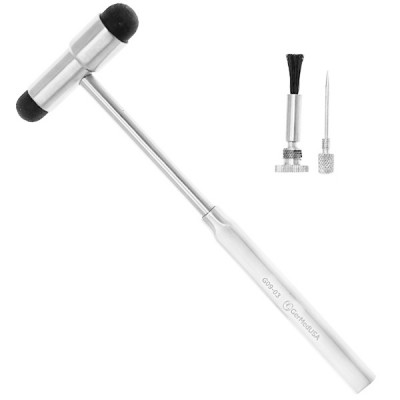 Buck Neuro Hammer With Pin and Brush is designed to elicit neurological responses and myotatic refle ...