Backhaus Towel Clamp
Showing 1 to 1 of total 1 results
Backhaus Towel Clamp is used for fixing drapes to the skin of anesthetized patients. They are used in the operating room, but they are also used in the physician's clinic. It is suitable for all general and specific surgical procedures. Thus, it is used for a range of medical approaches. The instrument has a scissors-like action with ratchet fixation at the finger loops. It features a sharp, incurve, needle-like blade. The clip's tip may be curved or pointer. It may have teeth to provide a firm grip. The clamp is available in different sizes and styles. There are several ways in which a towel clamp can be positioned. The clamp may connect two towels or clip to a frame. In the Backhaus towel clamp case, it can also clamp to the patient's skin. The delicate design is intended to allow the clamp to clip without occluding or pinching. Thus, it prevents complications during surgery. This incredible instrument is made from high-quality stainless material. Keeping in view,

GerMedUSA offers a vast range of surgical clamps with many variations. Our incredible instruments are ideal to be a part of your unique surgical kit. These instruments are suitable for performing a broad range of surgical operations. We can also design our surgeons' custom kit packs according to their needs. The instruments are all fine, durable, and sharp. Millions of surgeons throughout the globe rely on our instruments. We enable the world's top care community to manage their surgical practices. Thus, our instruments deliver quality care to patients.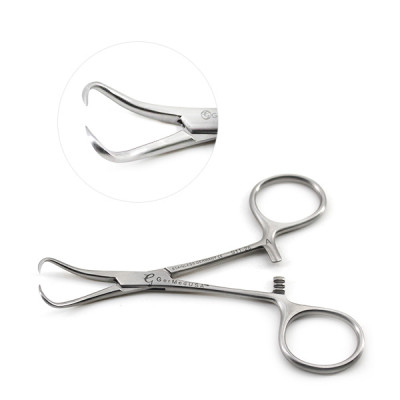 Backhaus towel clamp is used for holding drapes or towels on a patient's skin during a wide range ...
Multiple SKUs Available