Neurosurgery Dressing Forceps
Showing 1 to 1 of total 1 results
The Neurosurgery Dressing Forceps are excellent surgical instruments used to harvest bone and manipulate tissue. The features include a tweezer-shaped body with serrated or blunt tips along with a comfortable and non-slippery handle. These forceps play a vital role in neurosurgery. Nowadays, a variety of sizes are used during surgery to meet the requirements of the patients.
These amazing forceps are made of German medical-grade stainless steel. This metal makes them reusable, lightweight, and rustproof. Moreover, they are easy and safe to be sterilized after use—heat and pressure do not affect them. These tools aid in reducing the time of surgery in the operating room. We manufacture Neurosurgery Dressing Forceps with many variations. Our tools are ideal to be a part of your unique surgical kit.
GerMedUSA has been committed to providing its customer with the highest quality instruments. However, we customize further that our scope and range of instruments are not limited to displayed products. We are a Real manufacturer and supplier of surgical instruments ranging from typical to sophisticated instruments required for surgeries. We also craft your customized instruments if it is not depicted in our catalog. All our instruments are sharp, durable, and for long-term use.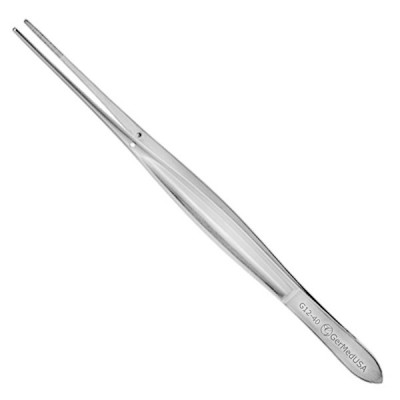 Neurosurgery Dressing Forceps are designed to be used for dressing purposes during surgical procedur ...
Multiple SKUs Available