Dandy Forceps
Showing 1 to 1 of total 1 results
Dandy Forceps are bent to the right, and the jaws are closed. These forceps are used in operational processes to maintain hemostasis. They are also equipped with 1x2 teeth on the jaws so that the hold is secure. These instruments are often used in neurosurgeries. The instruments come with a side curved hemostat without teeth.
These forceps are also known as "Dandy Artery Forceps," used during wound closure and blocking blood flow during surgeries. The finger ring handles accommodate a firm grip and precise performance. The forceps also have a laterally curved pattern to accommodate multiple surgeries.
Overall instrument length is 5 ½" and features curved sideways serrations on the jaws. These instruments are crafted from high-quality German surgical stainless material, so these instruments are reusable after sterilization.
GerMedUSA has obtained all the equipment required to perform various surgeries. Our instruments are made from high-grade material to increase durability and longevity. We have created this exclusive instrument with the help of professionals. Our advancement in medical devices has allowed a much more comprehensive diagnosis.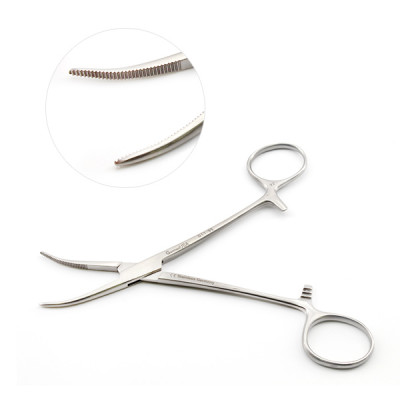 Dandy forceps control the flow of liquid in tubing or control bleeding in many surgical procedures. ...