Gemini Mixter Forceps Delicate
Showing 1 to 1 of total 1 results
Gemini-Mixter Forceps are highly versatile surgical instruments used to hold blood vessels that tissues may obstruct. The forceps feature serrated jaws and fully curved, delicately pointed tips that allow the surgeons to get better access during surgical procedures. Overall instrument length varies from 5" to 11". The variations in sizes help the healthcare professional in a wide range of surgical procedures. These are also suitable for cardiothoracic and vascular procedures. Apart from these surgeries, the unique design makes them well-suited for other general surgical procedures. The forceps are manufactured in a standard delicate pattern to fit all types of surgeries and other medical approaches.
Additionally, Gemini Mixter Forceps are made of entirely flexible, delicate, and tightened jaws that allow surgeons to retain blood vessels blocked by tissue. The Hemostatic Forceps are also known as Artery Forceps. The tip configuration is unique and features full curvature. The serrations on the jaws' full length give the unique pattern ensures atraumatic application.
Our instruments are specifically crafted from high-grade German surgical stainless material. All these instruments are ideal for long-term use because the stainless instrument is lightweight and rustproof. After sterilization, these instruments are reusable. These are easily sterilized, and pressure and heat do not affect the instrument body. The unique design is user-friendly and gives a precise performance.
GerMedUSA manufactures a broad range of surgical instruments with multiple variations. These variations make them perfect and suitable for a broad range of surgical procedures. All our instruments are sharp, durable, and robust. Our top line of surgical instruments is perfect to be a part of your surgical kit. We also offer customization solutions to satisfy your surgical preferences. All our customized instruments are unique and feature excellent characteristics.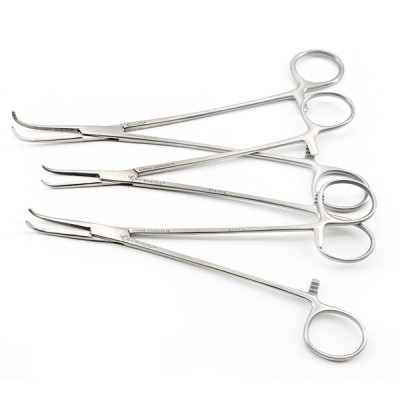 Gemini Mixter Forceps are widely used for holding vessels in many surgical procedures. These instrum ...
Multiple SKUs Available