Tungsten Carbide Instruments
Tungsten Carbide instruments are specially designed from the tungsten carbide metal. These instruments are more rigid than stainless steel. All the surgical instruments crafted from tungsten carbide (TC) offer a firm grip. They retain for long-lasting. Generally, these instruments have a golden color. Our TC surgical instruments are superb for cutting, features smooth jaw edges. The instruments are outperformed in their functions and stand higher in a wide range of surgical instruments. The premium quality TC instruments include a comprehensive range of rasps, forceps, needle holders, surgical scissors, and other varieties. All our instruments are crafted while considering the need of the surgical industry. All these instruments recognize and meet the standard of clinical needs for a wide range of surgeries. These instruments are ideally used in dentistry, ophthalmology, dermatology, plastic surgery, and general surgeries. The TC instruments are specially designed to reduce damage to biological tissues. These premium grade instruments offer accurate manipulation as well as durability of TC edges.

GermedUSA Inc. is one of the most dominating manufacturers of Surgical Instruments and tungsten carbide suppliers. We have years of experience in manufacturing Medical Surgical Instruments. Our years of experience and industry knowledge are recognized through our instruments' quality, which speaks for themselves. Our instruments are manufactured with high-grade material to enhance longevity and sturdiness. This set includes instruments that can be used to bring monitoring and accessibility during the process. The instruments are all fine, durable, and sharp. Our well-trained team is dedicated to providing high-quality instruments. Our instruments are what we claim to the customer, which is nothing less than "PREMIUM."

Please let us know; we will help you in getting customization instruments accordingly. Millions of surgeons worldwide rely on and use our surgical instruments that set standards in the surgery field. We enable the world's top care community to effectively manage their surgical practices and deliver quality care to patients.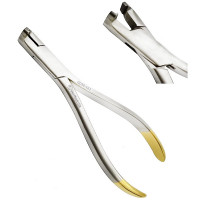 Wire Cutter TC is an instrument intended to be used during surgical procedures for cutting wires. The instrument is perfectly crafted from stainless steel and tungsten carbide. So, it is reusable after sterilization. The unique design makes it suitable for multiple surgical procedures.
Multiple SKUs Available
K-Wire Cutter Tungsten Carbide is an excellent tool that can be used in several surgical procedures. It is primarily designed for use in a particular perpendicular orientation for cutting wire. The instrument is manufactured from tungsten carbide and premium grade German surgical stainless material.
Multiple SKUs Available
Ryder Needle Holder (French Eye) is a highly unique surgical instrument made up of German surgical stainless steel and tungsten carbide. It comes with different variations. The unique design of the French eye makes it suitable for neurosurgeries.
Multiple SKUs Available
The instrument has narrow and cross-serrated tips allowing the use in the areas where needle holders have no access. It is reusable after sterilization. This instrument is available in different variations, perfect for your surgical kit. It is crafted from high-grade German surgical stainless steel.
Multiple SKUs Available
Mini Ryder Needle Holder is designed for holding small sutures. It is made up of stainless steel with a sharp ratchet to handle grip pressure during surgical operations. It comes with different variations. So, you can choose the best one of your choice. It can be reused after the sterilization process.
Multiple SKUs Available