Tungsten-Carbide Instruments
GermedUSA Inc. is one of the most dominating manufactures of Surgical Instruments and tungsten carbide suppliers. GermedUSA has years of experience in manufacturing Medical Surgical Instruments such as Tungsten Carbide Instruments such as Dressing Tissue Forceps, Needle holder, Pin, and Wire Cutter, and a wide range of TC scissors such as Mayo, Metzenbaum, Supercut & Olsen-Hegar. Our years of experience and industry knowledge are recognized through the quality and affordability of our instruments, which speak for themselves. GermedUSA offers its customers the most reliable customer service. Customer service representatives are always available to help whether online through our online support system or by calling us at 1-800-330-1322. Processing orders is now 100% hassle free, your satisfaction is our number one priority.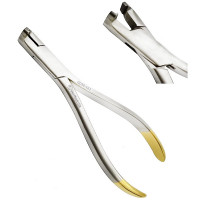 Tungsten Carbide Wire Cutter is a tool intended to be used during surgical procedures for cutting wires.
Multiple SKUs Available
K-Wire Cutter Tungsten Carbide is a flexible tool that can be used in a number of surgical procedures. It is primarily designed for use in a particular perpendicular orientation for cutting wire.
Multiple SKUs Available