T-Handle
Showing 1 to 1 of total 1 results
The T-Handle is an orthopedic surgical instrument. It is a handheld tool that is used to hand tighten the wires during orthopedic surgery. It is ideal that aids in creating holes in the bone and other hard tissues. This instrument can also be used to enlarge the already created hole in the surgical site. It is easy and safe in operating room surgery. The T-handle instrument is made of 100% German stainless steel. Environmental changes do not affect the body of the tool. It is lightweight, reusable, and reliable.
GerMedUSA has manufactured a T-Handles for the ease of the users. This equipment is reliable yet durable. The sterilization heat and pressure do not affect the body of this tool. It can be a part of your unique surgical kit for years. These instruments are sharp, durable, and robust. We also offer customization of these instruments so that you can get the best one according to your personal surgical need.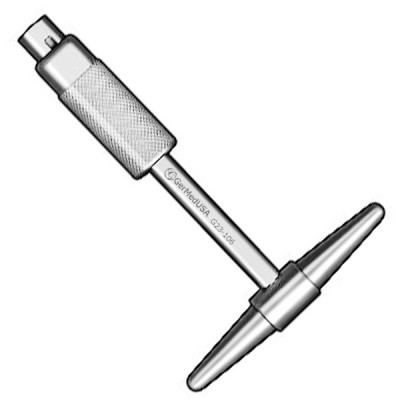 This T-Handle for Small/Large Screw Sets SQC features ergonomically designed clearly labeled handles ...