Ear Scissors
Showing 1 to 1 of total 1 results
The Ear Scissors are unique surgical instruments commonly used for trimming and cutting small sites in ear surgery. They can also be used in other microsurgical procedures. These scissors' unique design consists of comfortable finger-ring handles, extended shafts, and very small inserts. Nowadays, a variety of sizes, styles, and types are used by surgeons according to the requirement of the surgery. Some patterns can also be used for the ear, nose, and throat. Bellucci Micro Ear Scissors are excellent scissors that may also be used in other microsurgical techniques. These small finger ring scissors feature tiny ebony blades ideal for trimming in minimal sites. These scissors are perfect for throat, ear, and nose surgeries. The straight pattern comes with sharp tip blades. The unique design allows smooth cutting of delicate soft tissues. Apart from these scissors, we also offer customization scissors according to your personal surgical need.
All these great scissors are made of 100% German stainless steel. So, they are rustproof and lightweight. They perfectly work in everyday clinics/hospitals. These incredible scissors do not cause trauma, pain, or fatigue in the users' hands, fingers, or wrists. Moreover, these scissors can be used after cleaning and sterilization. Stainless instruments have high-tensile strength and corrosion-resistant properties.
Therefore, GerMedUSA offers a vast range of Ear Scissors with multiple variations. Our Ear Scissors are ideal to be a part of your unique surgical kit. Comparing and locating excellent surgical instruments is quick and easy with us. If you want any customized instruments, you'll directly be connected with our experienced instrument specialist for proper guidance. Thus, we will provide only a quote on an instrument that exactly match your preferred instrument specification and deliver what you need with high quality and substantially more value.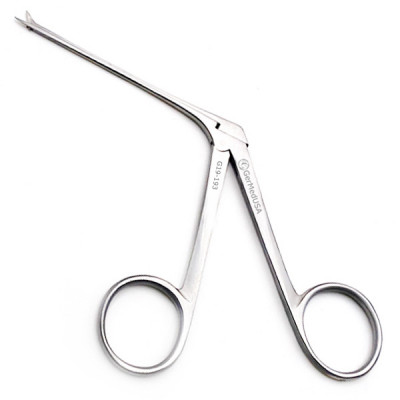 Bellucci Micro Ear Scissors are often used in procedures of the ear. They may also be used in other ...
Multiple SKUs Available