Ear Otoscope
Showing 1 to 1 of total 1 results
An Ear Otoscope is an instrument that shines a light beam to help visualize and examine the ear canal's situation and the eardrum. Analyzing the ear can uncover the cause of signs such as an earache, feeling full of the ear, or loss of hearing. Our broad range of otoscopes potentially provides a better view of the ear canal, eardrum, or tympanic membrane. It also indicates earwax, foreign body, canal skin edema, pus, shed skin, and other ear diseases that can obscure the eardrum's view.
GerMedUSA has brought the solution to all surgeons around the globe. Introducing a perfect instrument for ear handling, this Ear Otoscope offers the support of general surgeries at every level. Without comprising upon the material's quality, German forged stainless steel is used to manufacture every instrument. For executing any general surgery, a surgeon may need a set of basic instruments. Keeping these requirements in mind, we have designed a unique yet efficient tool for surgeons. All of the instruments are reliable, sturdy, and sharp. Hence after sterilization, they are reusable for the long-term.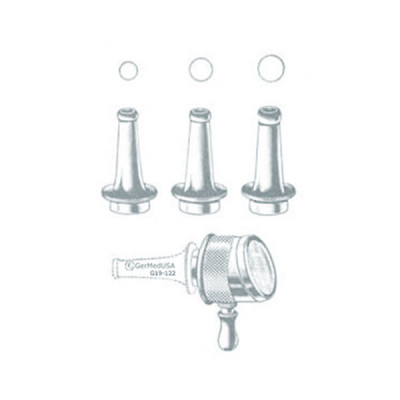 Bruening Otoscope is a medical device that is used to examine ears internally. It comes with multipl ...
Multiple SKUs Available