Neurological Pinwheel
Showing 1 to 1 of total 1 results
Neurological Pinwheel can be utilized to evoke responses to sensory cutaneous and painful experiences. Used by orthopedists, neurologists, neuro-surgical, and other doctors to assess a patient's ability to sense a harsh skin touch. It is used in nerve damage or nerve injury tests. Our advancement in medical technology instruments has allowed a much more comprehensive diagnosis and bone reduction in Neurological Pinwheel Instruments conditions to be developed. These forceps come with a combination of variations to accommodate the surgeons in a range of medical approaches.
The delicate design is easy to handle and assures atraumatic manipulation. The body of the instrument is made of 100% medical-grade stainless steel. Low maintenance is required due to having high tensile strength and resistance against environmental changes. This metal keeps it lightweight and rustproof. The stainless steel body renders the surface inert to many chemical reactions, thus giving a phenomenal built-in corrosion resistance, specially for use in the internal human body environment. These instruments are reusable neurology instruments that can be cleaned and sterilized easily.
GerMedUSA brings the topmost Neurological Pinwheel designed with the help of professionals. All of the equipment is created with German forged stainless steel to maintain the quality. Now you can get all the surgical instruments at one stop. All instruments here are just perfect for any type of surgeries.
If you want to know more about our products! Contact us or join us via live chat..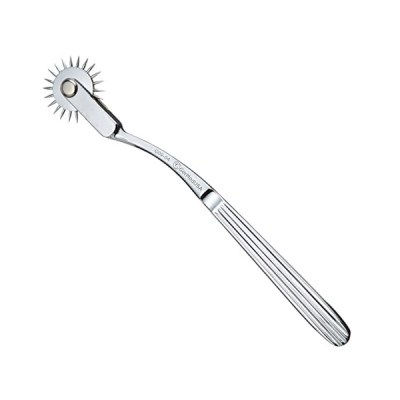 Wartenberg Pinwheel is used for neurological testing. It comes with different variations to accommod ...