Ligature Carriers
Showing 1 to 1 of total 1 results
The Ligature Carriers are incredible surgical instruments. Generally, they are used in urological surgical procedures. The hook at the end facilitates the placement of ligatures in the difficult areas. When the aim is to reach into the deep muscle and tissue, this equipment guides suture into the deep muscles. The tip is specially designed with two angles: either left or right. These operating room instruments are made of medical-grade German stainless steel. Therefore, these instruments are lightweight, rustproof, and steady. Detergent, heat, pressure, or environmental changes do not affect the functioning of the equipment, and they can be used for years.
GerMedUSA offers a variety of Ligature Carriers with multiple variations. Our specialized tools are ideal to be a part of your operating room surgical kit. We also offer customization of these surgical carriers to meet your personal surgical needs.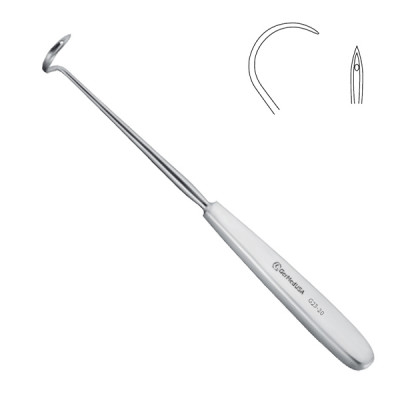 Depuy-Weiss Ligature Carrier 8 ½" used for the placement of ligatures, specifically for urology p ...
Multiple SKUs Available