All instruments are for Human Surgical use only, if looking for Veterinary Instruments, please visit
GerVetUSA.com
, for Human Dental Instruments please visit
GerDentUSA.com
. (
Dismiss
)
Get Discount
on Your Next Order
Showing 1 to 1 of total 1 results
The Stille Osteotome is used for cutting or chiseling during orthopedic and neurosurgical procedures. This features a chisel tip that can sculpt or scrape off the bone and a handle that can be used as a hammer to drive the chisel into the bone.
These surgical osteotomes have the following features:
• Multiple sizes
• Single-ended
• German forged
• Reusable
These instruments are the best surgeon's hand extensions that help them to work efficiently.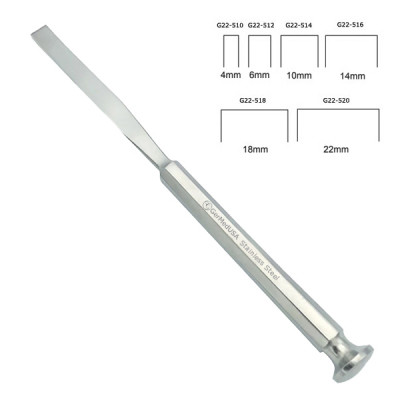 Stille Osteotome is made to use in several neurosurgical procedures for cutting and chiseling the bo ...
Multiple buying options, see details to choose according to your needs.