All instruments are for Human Surgical use only, if looking for Veterinary Instruments, please visit
GerVetUSA.com
, for Human Dental Instruments please visit
GerDentUSA.com
. (
Dismiss
)
Get Discount
on Your Next Order
Showing 1 to 1 of total 1 results
Needle Driver-Scissors (NDS) will replace the current needle holder and scissor combinations such as the Olsen Hegar & Gillies. This product will become the standard since it adds another margin of safety. Dr. Lasner, the inventor of the NDS, found a way to eliminate the chance of accidental laceration of tissue and to avoid accidental severance of the suture. Dr. Lasner states that it is accomplished by having the scissors up front and protected so the blade is not exposed to the jaws of the needle holder.
There are two ways to use the NDS. For a smaller tag, the device stops with the blade exactly 2mm from the knot allowing the suture to be cut leaving a 2mm tag. If a longer tag is needed, simply slide the NDS down to the knot and slowly back away until the desired length is needed. The two companies feel the Needle Driver Scissors (NDS), and other surgical devices we are currently working on, will fill a gap, provide an extra margin of patient safety, and will reduce overhead.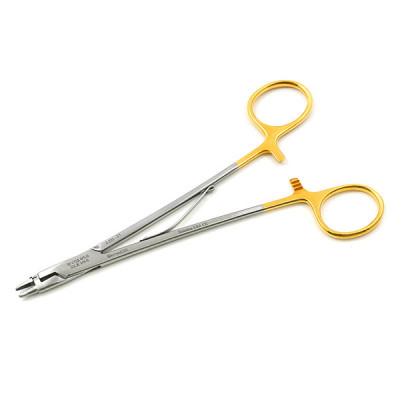 Mayo Hegar Needle Holder Tungsten Carbide is a specially designed surgical instrument used to hold t ...
Multiple buying options, see details to choose according to your needs.