All instruments are for Human Surgical use only, if looking for Veterinary Instruments, please visit
GerVetUSA.com
, for Human Dental Instruments please visit
GerDentUSA.com
. (
Dismiss
)
Get Discount
on Your Next Order
Showing 1 to 1 of total 1 results
Kleinert-Kutz Rasp is designed for bone contouring in reconstructive nasal operations. The Rasp also contains multiple grits to minimize the number of tools required during the procedure. Some significant features are:
• Overall length 8 ½"
• Double-Ended
• Long Pattern
• Fine and Coarse Serrated Tips
The double-ended layout includes a flat, convex end to navigate challenging contours.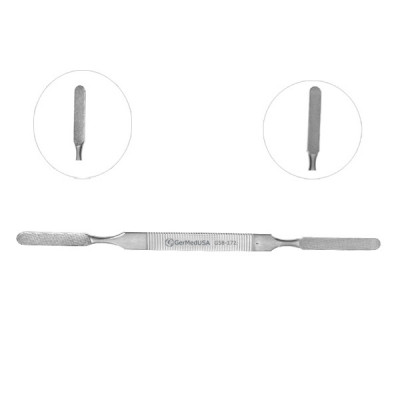 Kleinert Kutz Rasps are ideally for nasal surgical procedures. The convex blades rasp uneven edges o ...