All instruments are for Human Surgical use only, if looking for Veterinary Instruments, please visit
GerVetUSA.com
, for Human Dental Instruments please visit
GerDentUSA.com
. (
Dismiss
)
Get Discount
on Your Next Order
Showing 1 to 1 of total 1 results
Cottle Rasp is crafted for nasal reconstructive practices to contour bones. The fine teeth on the rasp help the surgeon to form themselves more precisely.
These surgical rasps have the following features:
• Overall length 8"
• Straight Pattern
• 7mm backward cutting plain
The Rasp has an ergonomic design that blends weight, stability, and sound for optimal efficiency and comfort.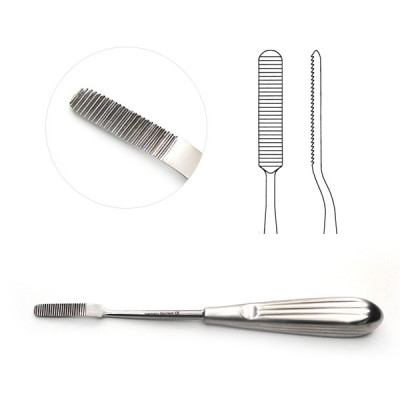 Cottle rasps are used in filing bones during a nasal reconstructive surgical procedure. The plain se ...