Payr Pylorus Clamps
Showing 1 to 2 of total 2 results
The Payr Pylorus Clamps are incredible surgical instruments used for removing infected bowel parts during bowel surgeries. It is used to block the lumen of the intestine in order to prevent the spillage of the gut. It also helps in blocking the blood supply of the affected part of the gut. So, we can say that this crushing clamp is used for crushing the diseased part of the gut during resection anastomosis (The surgery that requires the cutting of the gut disease part and the healthy part joined again). It is also used in diverticulitis (Diverticulum inflammation), intestinal cancer, and strangulated hernia (hernia becomes non-viable, used to trap gut).
Some patterns are also available with finger-ring handles, a hinged, and serrated tips. Surgeons use a variety of sizes, styles, and types during surgeries. The excellent quality 100% medical-grade German stainless material body of the clamps can be sterilized easily and excellent enough to be used in several surgeries. The heat and pressure do not affect the functioning of the instruments. These intestinal clamps are nonreactive, solid, and exceptionally balanced. While not perpetrating injury to the muscles and veins, these instruments help in the firm and smooth possessions.
Instrument Feature: This lever-action clamp is also known as "Payr's Intestinal Crushing Clamp" due to its ability to crush the intestines. This clamp features four joints, in which three joints in proximity are used to support the handle and operate the distal joint. These jaws are associated with the fourth distal joint. When the handles are closed, the jaws provide firm closure without any springing of handles. The jaw's some patterns have pins, and some are manufactured without pins. Patterns with pins increase the holding ability of these intestinal clamps. Some intestinal clamps do not have pins, but they are available in varying jaw lengths and overall lengths.
GerMedUSA creates awareness, product information and promotes a comprehensive instrument portfolio to customers, medical facilities, surgeons, and others within our supply chain. We have grown as a trademark in the global arcade as a high-quality instruments provider. Get the latest instruments now in your hands with just a click!
Payr Pylorus Clamp is an incredible surgical instrument and intended to use compressing or clamping ...
Multiple SKUs Available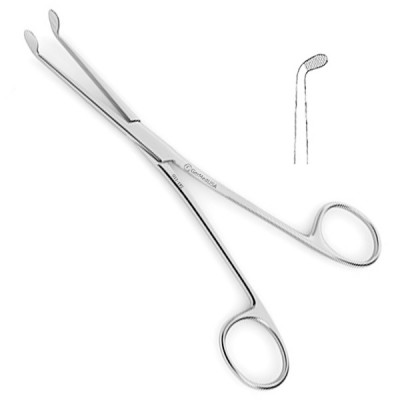 Benson Pylorus Separator is an intestinal instrument used to hold intestines during surgical procedu ...